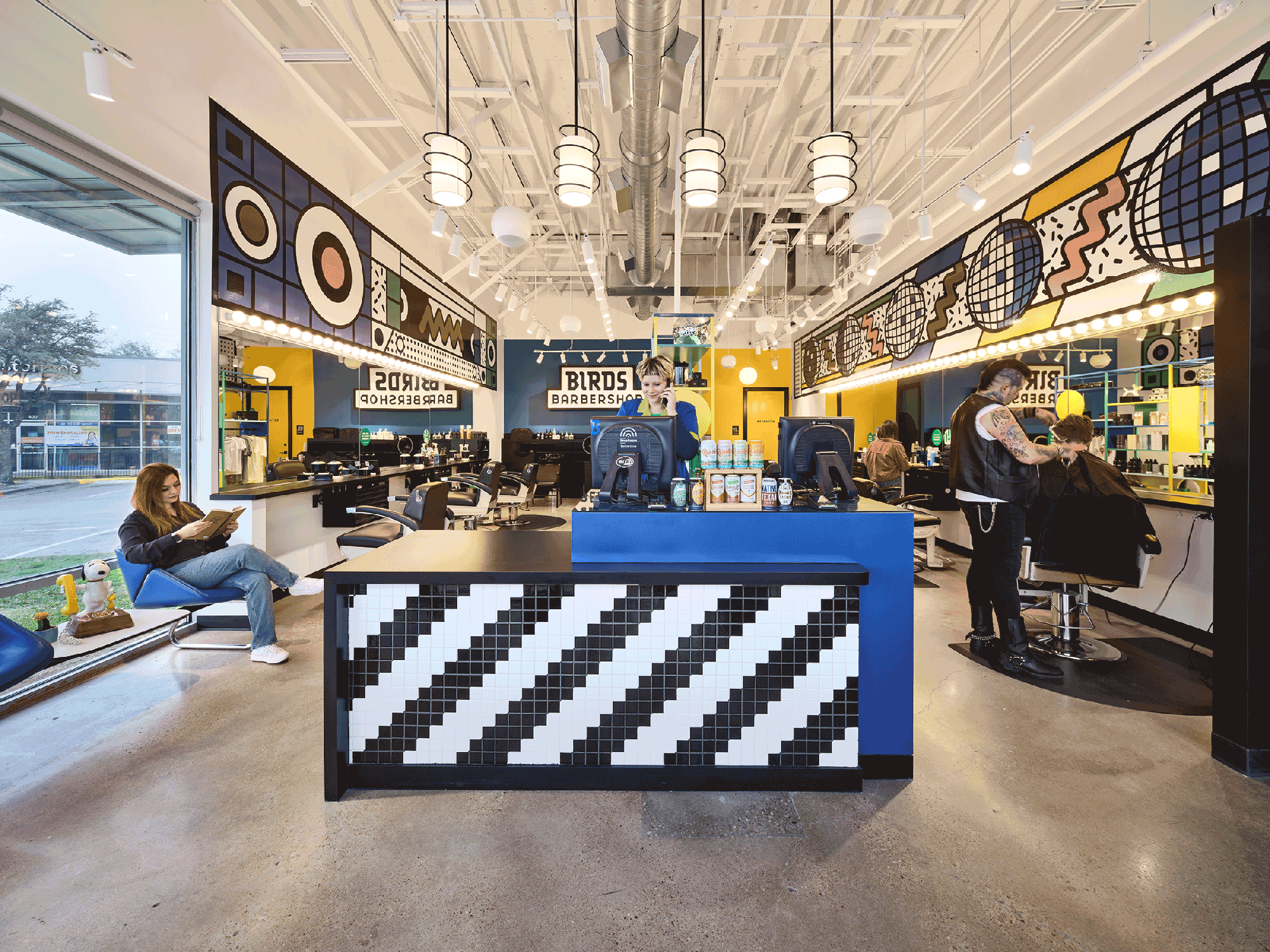 Birds Barbershop / William Cannon Drive—

Austin, TX /
Retail, Barbershop
This is the third time we've gotten to collaborate with iconic Austin brand, Birds Barbershop. We renovated this 1,150 square foot space into a vibrant and functional studio perfectly atuned to the Birds brand. The work was carefully executed by Franklin Alan Contractors and adorned with work by local artists.
"Mark Odom Studio helped us take a beige check cashing storefront and put our branding stamp on it for a bright, positive future. We are in the business of making people feel great and everything about the William Cannon location exudes that energy."
– Michael Portman
Co-Founder of Birds Barbershop
Published—
2023 /
Community Impact
/ 01
Situated in a growing community of local Texas brands south of downtown Austin, the exterior of the former Cash Loan store could not be changed. This provided a unique opportunity to maximize efficiency and brand aesthetics inside and out for the seven chair shop. We took the bold Memphis Style of the iconic Birds Barbershop sign and applied it to the space from the colorful tiled check-in counter to the custom millwork and murals throughout.


/ 02
"We chose colors and iconography that had been used before but filtered it through a new lens. We saw this store as an opportunity to expand on the already well established brand identity of Birds Barbershop rather than introduce something completely different."

—Erin Nies
m(ødm)

/ 03
A fully-custom and distinct millwork partition anchors the space while providing an interactive opportunity to engage with products, merchandise, and employee collected objects. Equally colorful are two 30 foot murals created by Birds original muralist, Bryan Keplesky, which energize the space and harken back to Birds' first two original shops which opened in downtown Austin in the 2000s.
Project Team—
Architect: Mark Odom Studio
Interiors: Mark Odom Studio

Builder: Franklin Alan
Murals: Bryan Keplesky

Photography: Andrea Calo