Lake House—
Waxahachie, TX /
Single-Family Home
Our studio was approached to create an atypical, modern home that would be unlike any place the client had previously lived. Their honesty of place and quality of lifestyle, coupled with their trust of our professional opinion, gave our office an opportunity to create a structure that was well-suited to its environment while architecturally challenging the very idea of "house."
Published—
2017 / Featured in the book, Texas Modern by Images Publishing

2016 / Cover Story, Austin-San Antonio Home Magazine
Goal—

Our initial goal was to fully understand the client's interior and exterior wish list and day-to-day lifestyle choices, while creating a modern vernacular that took advantage of the lake views and natural landscape.



The cultural background of both individuals called for deep country roots and a designated place for family gatherings—which we made sure to respect and honor in space, form, and material.

Their needs also called for separation of interior rooms for some level of privacy while maintaining an open floor plan with views to the exterior. Our goal is always to create form and space that reacts to its context which inevitably results in a site appropriate response full of reason.


"…allowing Mark Odom Studio to have total creative control resulted in a stunning modern lake house that grabs views of serene Lake Waxahachie from every single room."
—Mauri Elbel
Home Design Decor Magazine
Process—

With each project, we listen, observe, and edit to produce architecture that embodies our client's desires and context.
Lake House began with diagramming our clients' rooms and creating a wood structure reminiscent of a barn; its axial plane stretched out along the long and narrow site so that each room could have its own views both within the site and beyond.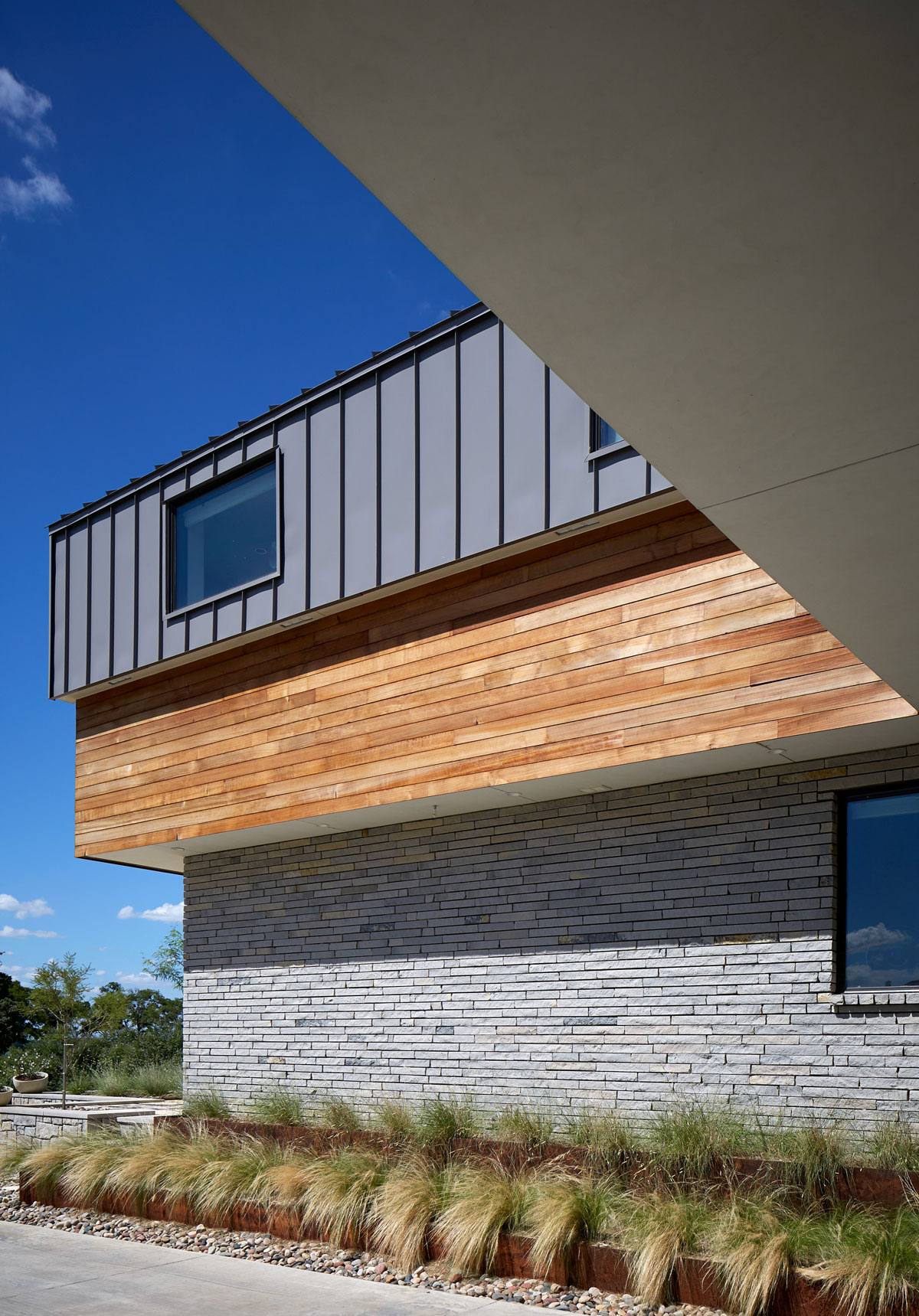 Result—

In the end, the house was more externally expressive than anticipated. The interior space, while expressive in structure, maintained its simplicity, comfort, and connection with the outside. Opportunities to see both the lake and the landscaped surroundings from multiple rooms and balconies throughout the day gave the client's reason to circulate around the house to take best advantage of the changing light and views.





Natural light fills the space throughout the day, enhanced by a diamond plaster finish on interior walls and ceilings and parallels the idea of minimalism through material.

Project Team—

Architect: Mark Odom Studio
Interiors: Mark Odom Studio
Landscape: Mark Odom Studio

Photography: Dror Baldinger