territories. butler —

Austin, Texas /
Installation
Butler Hike and Bike Trail
Featured at Fortlandia 2020
Part of the very popular Fortlandia event in 2020 at the Ladybird Johnson Wildflower Center, territories. has been re-imagined along the Butler Trail at
Lakeshore
Park in partnership with the The Trail Foundation and Austin Parks and Recreation Department.
Fortlandia is a collection of forts designed by local architects, designers, and artists, designed to transport viewers to imaginary worlds and spark an appreciation for art and nature.
"We're thrilled to be partnering with our friends at the Wildflower Center to host territories., and can't wait to see children and adults alike enjoying this new creative, interactive feature on the Trail," says TTF CEO Heidi Anderson.
"The second life of territories. allows even more people the chance to engage and perhaps stay a little longer out in nature. Wayfinding and sight lines from different access points were addressed in this new iteration and we welcomed the opportunity to work with The Trail Foundation and City of Austin on further activating green space along the Trail," says Mark Odom, Founding Principal, Mark Odom Studio.
About The Trail Foundation
The Trail Foundation's mission is to protect, enhance, and connect the Butler Hike-and-Bike-Trail at Lady Bird Lake for the benefit of all. The Butler Trail is the 10-mile lush, urban path in the heart of Austin that gets more than 4.4 million visits every year. Since its founding in 2003, The Trail Foundation has achieved restoration and beautification projects to the Trail's infrastructure and environment, while honoring the original vision of the Trail's founders and ensuring its vibrancy for generations to come. For more information, please visit
www.thetrailfoundation.org
, follow us on
Facebook
, Instagram @thetrailfoundation, and Twitter @ttfaustin. More information on volunteering with TTF
here
.
About Austin Parks and Recreation
Austin Parks and Recreation Department (PARD) seeks to inspire our community to learn, play, protect and connect by creating diverse programs and experiences in sustainable natural spaces and public places. PARD protects and maintains parkland, urban forest, and trails as well as offering sports, recreation, educational enrichment, arts programs, cultural opportunities, and nature and aquatic activities for Austinites. For more information visit
AustinTexas.gov/Parks
.
Published—
Finalist / Austin Home & Design Award - Community Project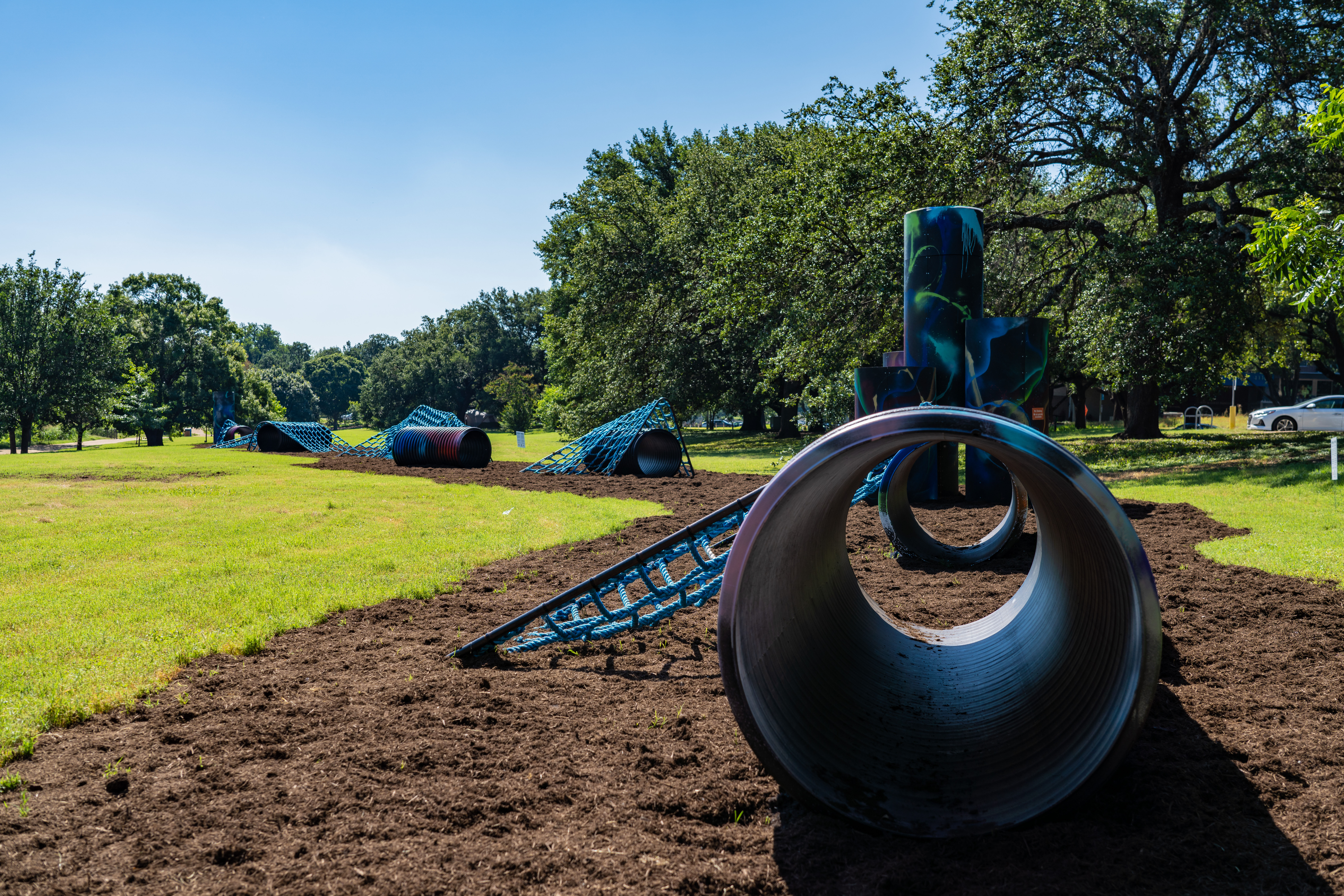 / 01
The concept behind Mark Odom Studio's territories. is derived from the game "pick-up sticks." The fort establishes a series of shelters, or territories, which can be continually redefined by its occupants. The layered materials that comprise the installation are meant to expose infinite ways to tunnel, crawl, claim, and discover space.


/ 02
The territories are assembled by materials which reflect "discovered" objects; those that can be reused in a variety of ways. Layering reclaimed 36" diameter drainage pipe, and cargo net over custom steel frames, a dynamic and unexpected environment was created - one that offers opportunities for people of all ages to discover each territory in a number of exciting ways.

Mark Odom Studio
The Trail Foundation
Austin Parks and Recreation Department

Builder: Citadel Development Services
Fabricator: Makehaus
Graffiti: Sloke One

Photography: Ben Porter